Works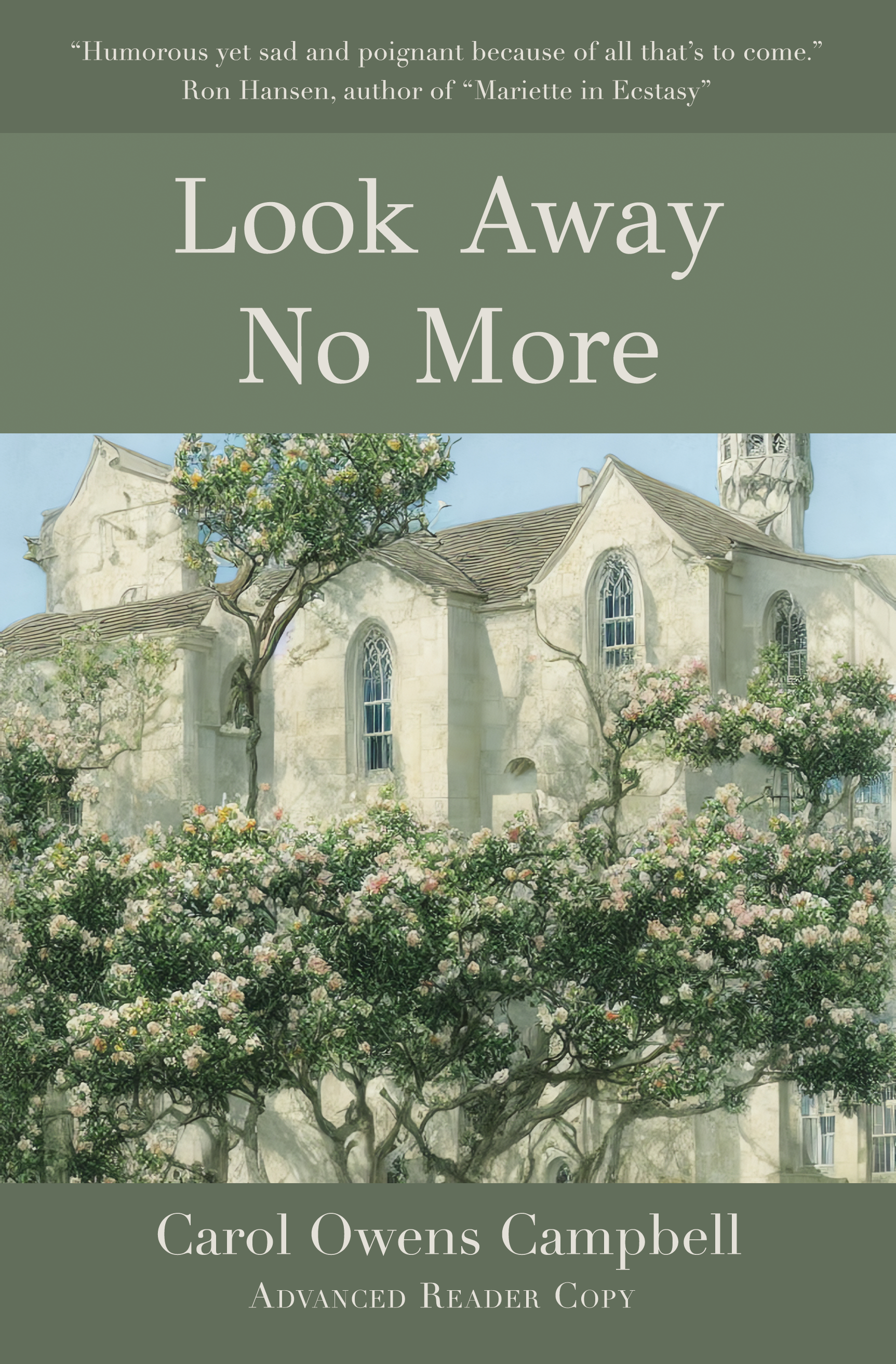 PRE-PUBLISHING PRAISE FOR LOOK AWAY NO MORE
"LOOK AWAY NO MORE is very much like its protagonist, Tally: full of zest and affection for Southern history, for intellectual endeavor, for her friends--whatever their race. It is, all at once, an earnest history and sociology lesson, a philosophy treatise, a celebration, a mourning, and a love story. Above all, it is a portrait of young feminist ambition and conscience, for Tally is a radical hero. The surprise, given the fun of the rollicking reading, is just how serious the author is and how relevant are her themes of political and historical consciousness. Like any good Southern girl of the time in 1970, Tally, though forthright in her ambition and politics, deeply loves her school and sorority sisters and the state of Georgia. She is complex, and she is fun. So is this surprising story. Simply put, there's no book like it!"

Sandra Scofield, National Book Award nominee for "Beyond Deserving," author of "The Scene Book," "SWIM," "The Last Draft," "A Chance to See Egypt," and other works.

"LOOK AWAY NO MORE is a subtle yet bold critique of American militarism and the senselessness of war. In this novel of manners, both historically and socially alert, the story palpably evokes the tenderness of a fairy tale of young, innocent love. LOOK AWAY NO MORE gives me hope about the human race and the future of the American people."

Jaime Manrique, author of "Like This Afternoon Forever," "Latin Moon in Manhattan," "Our Lives Are the Rivers," "Cervantes Street," "Twilight at the Equator," and other works.

"This is such Southern writing with its sense of good manners, the sorority, the naivety of the period for a girl like Tally. Humorous yet sad and poignant because of all that's to come and all she doesn't know."

Ron Hansen, author of "Mariette in Ecstasy," "The Assassination of Jesse James by the Coward Robert Ford," "Atticus," "The Kid," and other works.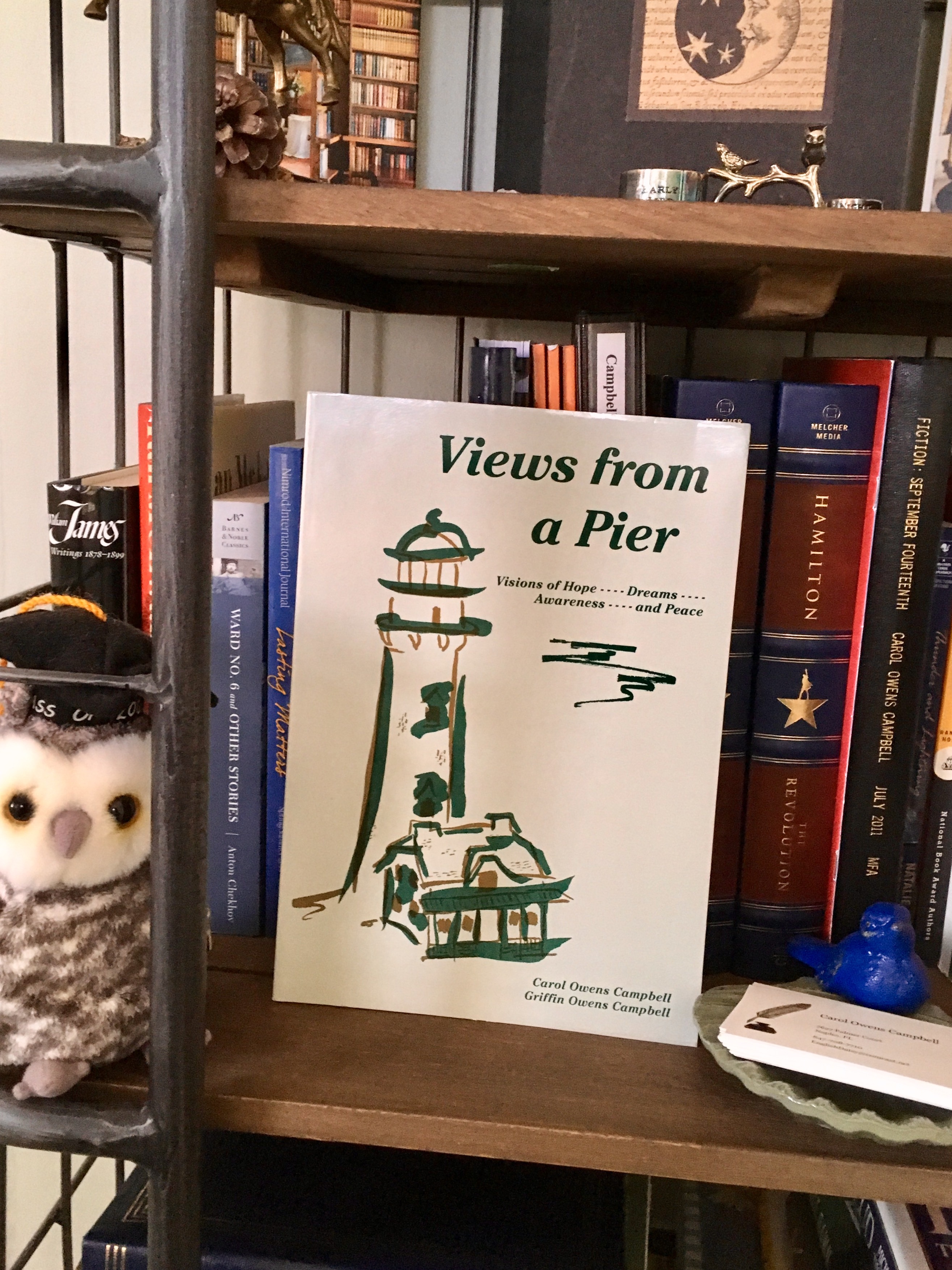 Carol Owens Campbell and Griffin Owens Campbell
Views from a Pier invites you to the Golden Isles of Georgia where teacakes are plentiful and provocative ideas about controversial issues are too.

Readers are cordially asked to "rest" their exhausted emotions about divisive, polarizing issues and "energize" their personal mental brilliance to think, learn and consider new views.

In this risk-taking book of essays, Carol builds a timeless, timely, honorable bridge between the Islands of Women (St. Simons Island and Sea Island) and the Island of Men (Jekyll Island). Not content to join people on a sandbar in the ocean who keep arguing about the issues without proposing solutions, Carol instead is a rebel thinker who proposes that it is our legacy as humans to figure out solutions to issues that seem to confound us, issues such as professional peace, pregnancy peace (for women and men including a peace accord for the abortion rights issue), parenting peace and pilgrimage peace. After connecting the Islands, she invites readers to the top of the bridge for a view never seen before.

Griffin's views begin each essay as stand-alone commentary from the perspective of an inquisitive, direct, humorous young boy.

Carol's views follow Griffin's from the perspective of a woman who convincingly believes peace on earth is possible.

"VIEWS FROM A PIER offers a new perspective, a lyrical voice and a vision of hope. Carol Owens Campbell's honesty is compelling, her sense of humor a delight. Take her 'road trip,' and experience a new genre of expression that provides compassion and wisdom for families everywhere." Barbara Sokolec-Byer, MA, MEd

"In VIEWS FROM A PIER, Carol Owens Campbell leads you on a journey that's full of creative twists and turns. Her son, Griffin, sweeps you along to his world -- a world filled with wonder and discovery. Together, this mother and son will surprise you with insights about parenting, childhood and issues while affirming your experience and challenging you to become an even better person." Jolene Roehlkepartain, Founding Editor of "Adoptive Families" magazine

"VIEWS FROM A PIER is a thought-provoking look at one person's view of reproductive freedoms. Carol's brutal honesty forces one to deal with and reflect upon the important feelings necessary to successfully parent in a difficult and changing world." Tom Gould, An individual who seeks peace within himself and prays for it within others